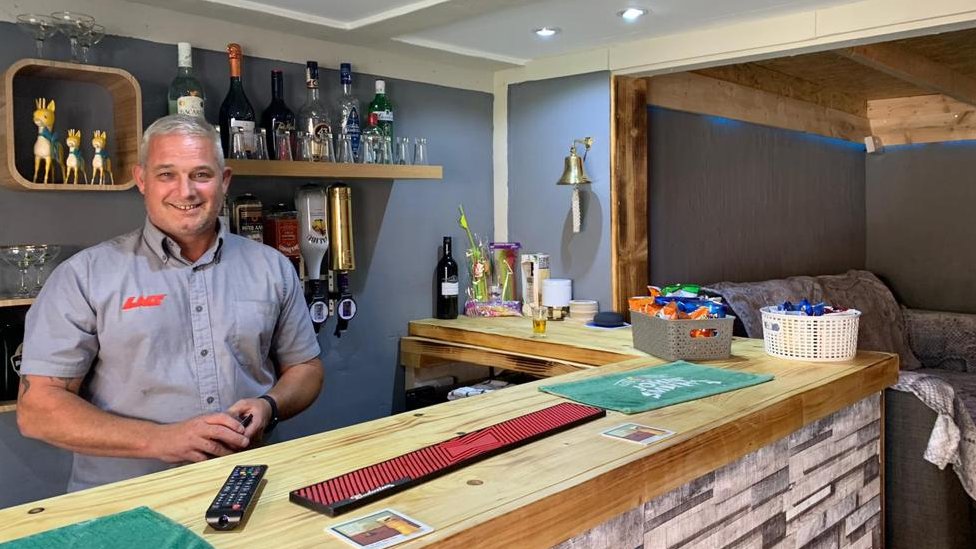 A man has spent his cancelled holiday money building a pub in his back garden while on furlough.
Karl Heath, 50, from Rotherham, said he "always wanted to build a pub" so built the Furlough Inn as "something to do".
He said: "Our holiday this year got cancelled and I needed a project on furlough so I used the money to build a pub in the garden."
Mr Heath, his wife, sons and friends take it in turns to go to the bar in small groups at weekends.
The outside space has soft seating, lights and a hot tub on decking under the pergola, while inside is a bar with fridges and drinks, snacks, a TV and seating, and a dart board. There is even a disco ball above the door.
It took less than three months to build and cost about £3,000.
"I said to my wife I need something to do," Mr Heath, a manufacturing supervisor, said.
"I just planned it in my head and it's worked out exactly how I wanted. Everyone loves it, they think it's fantastic."
For now only small groups of friends and family can use the Furlough Inn, but Mr Heath said: "When covid's all done and gone we'll have a big party with all our friends and family."
Others who have created their own pubs
…