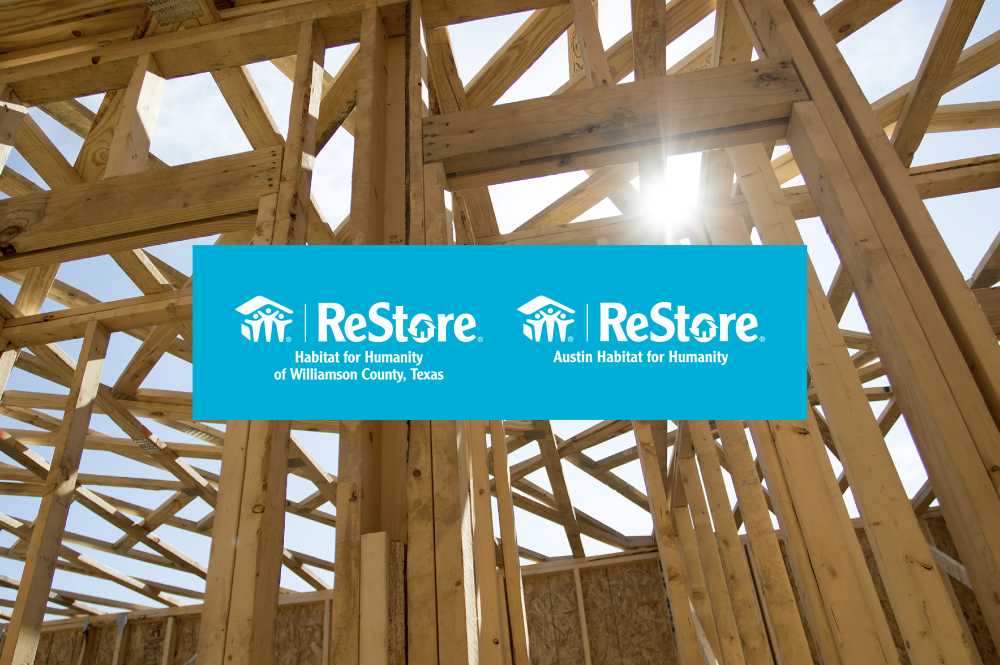 Reduce, reuse, ReStore: Meet the home improvement stores working to solve Central Texas' affordable housing crisis
Every day is Earth Day at Habitat for Humanity ReStores, a home goods and home
Every day is Earth Day at Habitat for Humanity ReStores, a home goods and home improvement shop where customers give items a second life to keep them out of landfills—plus, each dollar directly influences lives in the community.
Austin ReStores and Georgetown ReStore sell new and gently used furniture, appliances, building materials, and home accessories to the public at a fraction of the retail price. Patrons can buy anything from tools and supplies to complete their dream renovation project or thrifted decor, furniture and appliances to fill their space.
While many thrift stores support nationwide efforts, each purchase and donation at a ReStore helps families partner with their local Habitat for Humanity to realize their dream of homeownership by building safe, decent, and reasonably priced houses.
"When you support your local Habitat ReStores, it's a win for you, the environment, and the community," said Jamie Hatton, ReStore Marketing Manager at Austin Habitat for Humanity. "Reusable items are kept out of the landfill, shoppers go home with unique items at discounted prices, and funds generated support our mission driven work."
Instead of taking unwanted or unused items to the dump, donate anything from bathtubs to countertops by scheduling a pick-up for large donations, or drop it off at the nearest location during donation drive operating hours. ReStore employees are constantly restocking both donated items and new products to keep inventory fresh and full.
While the stores are loved for the bargains and "treasure hunt" experience, staff can also help direct customers on home improvement projects, said Nicole Vommaro, director of development and marketing at Habitat for Humanity of Williamson County.
"Our staff get excited about the shoppers that come in, whether it is somebody in the construction industry … or DIYers or local artists," Vommaro said.
Hatton said it is always a good idea to check a local ReStore location to fulfill needs at a lower cost before resorting to other companies that might not aid local underprivileged communities amid the affordable housing crisis.
"We tell people to shop [at a] ReStore first," Hatton said. "Why not try to shop at a nonprofit and save? We might have everything [you need]. Pop in and see if you can help your community and save some money at the same time."
In addition to shopping and donating, individuals can sign-up to volunteer at their local ReStore location through a simple time-slot portal online. An easy way to get involved or fill mandated volunteer hours, volunteers contribute their energy and skills to the Habitat mission by filling employee shift gaps with activities such as accepting drop-off donations, pricing and displaying merchandise, and creating store displays.
As the anniversary of the modern environmental movement approaches, Vommaro and Hatton said ReStore is special because the store celebrates sustainability daily. Austin Habitat for Humanity is also celebrating a special milestone this year; the affiliate opened the nation's first ReStore 30 years ago in 1992.
"Our goal is to rally around Earth Day, a day that's important to both Austin Habitat ReStores and Georgetown ReStore, to remind the community to shop and donate often with Habitat ReStores," Hatton said. "Shopping secondhand and donating reusable yet no-longer-needed items from your home are great ways to recognize Earth Day."
See below for details on Austin Habitat ReStores and Georgetown ReStore. Learn more about Austin Habitat at austinhabitat.org and Habitat for Humanity of Williamson County at williamsonhabitat.org.
Austin Habitat for Humanity ReStores – @atxhabitat
South Austin: 500 W. Ben White Blvd., Austin
Northwest Austin: 13804 N. US 183, Austin
San Marcos: 2521 S. I-35, San Marcos
Habitat for Humanity of Williamson County's Georgetown ReStore – @habitatwilcotx
Georgetown: 2108 N. Austin Avenue, Georgetown
The above story was produced by Community Impact's Storytelling team with information solely provided by the local business as part of their "sponsored content" purchase through our advertising team. Our integrity promise to our readers is to clearly identify all CI Storytelling posts so they are separate from the content decided upon, researched and written by our journalism department.