The focus of Big Freedia's Garden Cookout is, in descending order of priority, Big Freedia, the garden and the actual cookout.
Since July, Freedia, the multiplatform Queen Diva of Bounce, has presided over a weekly cooking-themed webcast at the New Orleans Botanical Garden in City Park's Kitchen in the Garden pavilion. The Friday night events are livestreamed on Freedia's social media outlets.
The Garden Cookout expands on Freedia's popular Sunday morning at-home cooking webcast and replaces some touring income lost to the coronavirus pandemic. Forty spectators seated at socially distanced tables each pay $90, or $120 to sit at one of the front tables. Tickets must be purchased through EventBrite in blocks of at least two, to fill tables with self-contained groups.
Freedia's cottage industry, built from the ground up after years of toil on the New Orleans club circuit, encompasses recording, touring, an autobiography, branded bubbly and aprons, collaborations with the likes of Beyoncé and six seasons of a Fuse network reality show, alternately titled "Big Freedia: Queen of Bounce" and "Big Freedia Bounces Back," from 2013 to 2017.
If the Oct. 2 Garden Cookout was typical, chatting and cutting up take precedence over actual cooking.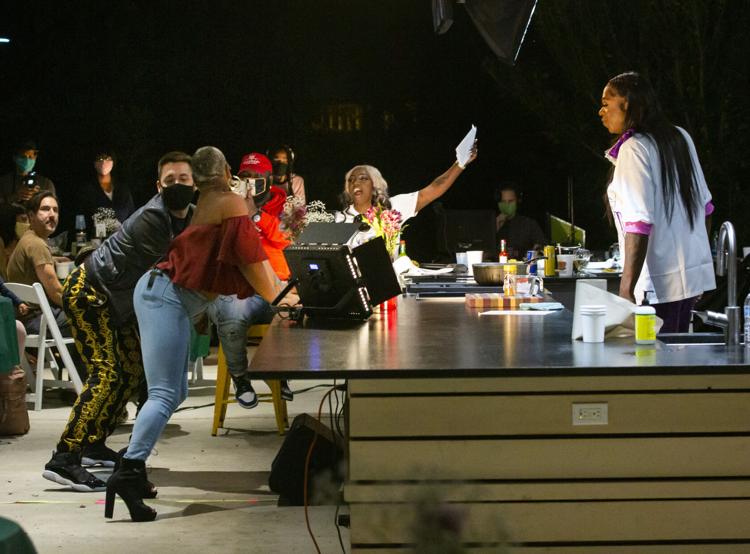 Early arrivals, wearing mandatory face masks, were escorted through the lovely Botanical Garden — it's even more enchanting at night — to the brightly lit Kitchen in the Garden. Completed last fall, the open-air kitchen pavilion hosts culinary-themed educational and social events.

From 7 p.m. to 8 p.m., attendees patronized a cash bar while DJ Juane Jordan spun music. Freedia appeared in a sequined facemask, glittering purple pants and a custom chef's coat bearing

…